Details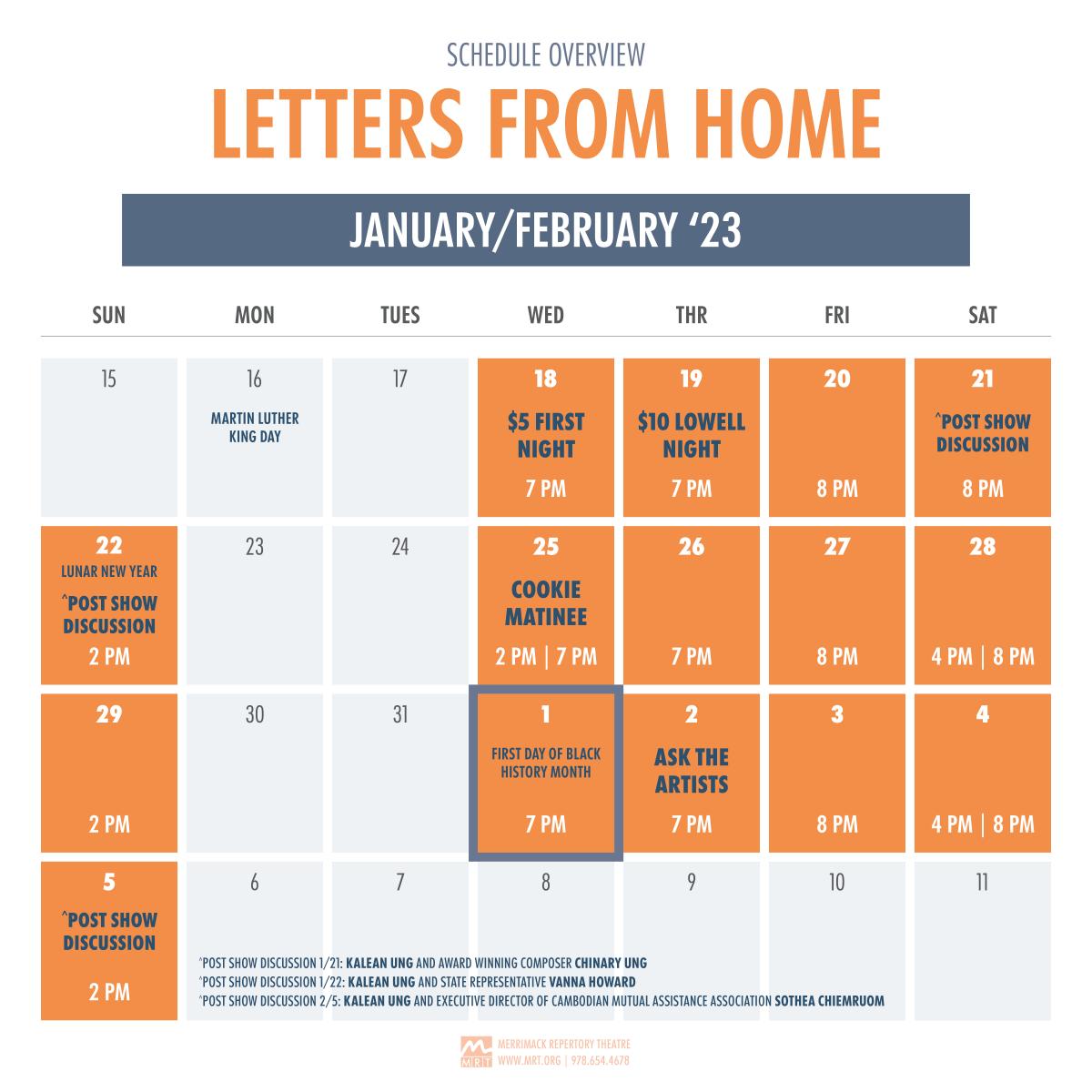 DISCOUNTS
MRTLE - 2 for $30 - Limited seats, Zone D only, promo code MRTLE. Valid only Tue/Wed/Thu/Fri evenings. (Special may end at any time, no refunds, no exchanges.)
Student Discounts - All students $15 tickets to any show in person, by phone, or online. MCC and UML students: $10 tickets. Student ID required to pick up your tickets.
For recurring discounts - $5 First Night; $10 Lowell Night; Educator, Group, Military Discounts, and more - visit the DISCOUNTS page. For further information, contact the Enterprise Bank Box Office at box_office@mrt.org or 978-654-4678.
Creative Team
KALEAN UNG (PERFORMER/PLAYWRIGHT)
Performer and playwright Kalean Ung (she/her) is an award-winning Cambodian-American multi-disciplinary theater artist whose professional career ranges from Shakespeare to experimental theatre to contemporary opera and solo performance. She has performed at The Kirk Douglas Theatre, Disney Hall, REDCAT, The Getty Villa, The Geffen Contemporary at MOCA, Boston Court Pasadena, The Hammer Museum, The Actors' Gang, among others, collaborating with critically-acclaimed theatre and opera companies including Critical Mass Performance Group, The Industry, The LA Philharmonic, Rogue Artists Ensemble, Independent Shakespeare Company, Four Larks Theatre, and CalArts's Center for New Performance. Kalean's voice acting can be heard as the lead in the English version of Denis Do's award-winning, animated feature about the Cambodian genocide, FUNAN.
Her solo play Letters From Home (LFH) has had performances at Independent Shakespeare Company, UC San Diego, Cambodia Town Film Festival, Willamette University, LA Mission College, UC Irvine, as well as a four-camera live-stream adaptation that was workshopped at Boston Court Pasadena. In addition to these residences, she co-curated a companion exhibit called "Music, Letters, Home: An Exhibition celebrating the Journey of Composer Chinary Ung and Actor Kalean Ung" at The Orange County & Southeast Asian Archive Center. LFH has received support from the Los Angeles Department of Cultural Affairs, CalArts, and MAP Fund. Kalean was just awarded the competitive California Arts Council Established Artist Fellowship for her artistic work spanning the last ten years.
Kalean teaches in the Theatre School at California Institute of the Arts. She has also taught at California State University, Los Angeles and Northridge. She received her Master of Fine Arts in Acting from California Institute of the Arts and her Bachelor of Music in Vocal Performance from the University of California at Santa Cruz. It is a dream come true for her to bring Letters From Home to Merrimack Repertory Theatre and share this with the Lowell community.
MARINA MCCLURE (DIRECTOR)
MARINA MCCLURE (Director) creates emotionally-charged theater, opera, and spectacles. Her work is known for striking visual design and physical performance. She helms The New Wild, a multidisciplinary art lab that brings stories with multicultural perspectives to American and international audiences. Projects in development include Tear a Root from the Earth, a new musical that examines the legacy of American intervention in Afghanistan, with Qais Essar and Gramophonic (MAP Fund, Creative Capital: "On Our Radar," The Kennedy Center, BRIC, The New Ohio); Everybody Is Gone, a work of immersive journalism responding to ongoing human rights atrocities against the Uyghurs (Alte Münze—Berlin, National Endowment for Democracy). She directed Wing It!, a parade and large-scale community performance for Handspring Puppet Company in celebration of South Africa's National Day of Reconciliation, and collaborated on Casablancabox (Drama Desk Nomination for Unique Theatrical Experience). Her direction of Gao Zingjian's Nocturnal Wanderer was awarded Dartmouth's Gurdin Prize. She has developed new work with Boston Court, The Playwright's Realm, The Flea, Vox Theater, Northern Stage, United Solo Festival, Toronto's Theatre Centre. Marina teaches directing at NYU-Tisch, and was recently an artist-in-residence at Willamette University. She is an inaugural recipient of The Red Backpack Fund, an award for female entrepreneurship. MFA: CalArts. www.marinamcclure.com
Over the past forty years Chinary Ung has developed a musical language that indicates an open ear toward the sounds of the East—Southeast Asia and his native Cambodia in particular—as well as the textures and instrumental practices of contemporary Western concert music. From the solo 'cello piece Khse Buon, to the Grawemeyer Award-winning Inner Voices, to the epic Aura, Ung's music is characterized by a vivid sound world with an intense emotional trajectory. Ung's extensive orchestral catalog has been commissioned and performed by major orchestras throughout the United States and abroad. Boston Modern Orchestra Project released a recording of Ung's orchestral music in 2015. His work has been commissioned by the Meet the Composer/Reader's Digest Commissioning Program, the National Endowment for the Arts, and the Ford, Koussevitsky, Joyce, and Barlow Foundations. In 2014 he was given the John D. Rockefeller 3rd Award by the Asian Cultural Council. He was inducted into the American Academy of Arts and Letters in 2020. Ung has worked with numerous institutions who share his dedication toward preserving Cambodian culture and forging cultural exchange between Asia and the West. As an educator, Ung has instructed generations of young composers at several institutions in the United States and now, through a series of residencies, in Asia as well. Since 1995 he has served on the faculty of UC San Diego, where he is Distinguished Professor of Music.
MARK KANIEFF (SCENIC DESIGNER)
Mark Kanieff (he/him/his) is a Set Designer and Sculptor. His most recent projects include Earth (Highways Performance Center), Florence Nightingale (Off Off Theatre), and Chavez Ravine (LA Mission College). He teaches Scenic Design at the California Institute of the Arts (CalArts). He received an MFA in Scenic Design from CalArts and a BFA in Sculpture from Carnegie-Mellon University.
YAO CHEN (COSTUME DESIGNER)
Originally from China, Yao (she/her/hers) is a costume designer and Illustrator with international design credits. MRT Production: Until the Flood, Rise and fall of Holly Fudge, Macbeth (2023), Recent productions: Paper Dream of Harry Chin at Indiana Repertory Theatre, Miss you like Hell in Theatre Square, Babel and Ushuaia Blue in CATF,  She has been active collaborator with Seattle Children's Theatre, Shakespeare Theatre of New Jersey, Berkshire Theatre Group, Trinity Repertory Company, Indiana Repertory Theatre, Merrimack Repertory Theatre, TheatreSquared, Contemporary American Theatre Festival, Orlando Repertory Theatre, Orlando Shakespeare Theatre, Brandies Theatre Company, Karen Reedy Dance Studio, Beijing Normal University, Gudao Yue Zhong Theatre Studio, Beijing, China and Expresso Theatre in San Jose, Costa Rica. Members of USA 829, https://www.yao-chen.com
KENNIS YIN-MOR (TRADITIONAL COSTUME CONSULTANT)
Born and raised in Lowell. Kennis (he/him/his) works for the Cambodian Community and serves on variety of temple board committees. In addition, he is an independent consultant that specializes in Cambodian dance costuming, interior designing, Khmer wedding planning, management, and wardrobe. Also, he continues his community work with CMAA by constantly volunteering and providing aid in the youth programs till this day.
CHU-HSUAN CHANG (LIGHTING DESIGNER)
CHU-HSUAN CHANG is a Los Angeles based lighting artist working in live performance, and installation. As a lighting designer, Chu-hsuan's notable collaborations include—Lars Jan's The White Album (August Wilson Center, Wexner Center for the Arts, Next Wave Festival, Freud Playhouse, Sydneyfest ); Janie Geiser's Fugitive Time (On Edge Festival, Automata); performing artist Takao Tamaguchi's Touch of Others (One Archive, REDCAT); choreographer Meryl Murman's The Lipstick (CAC). Chu-hsuan has also worked with Lars Jan on The Institute of Memory (REDCAT, TBA Festival, Under the Radar Festival, Divine Comedy Festival, On the Board, ICA Boston, YBCA, LPAC) and Slow-Moving Luminaries (Art Basel Miami Beach); Andrew Schneider on Nervous/System (The Fisher Center for the Performing Arts, LUMBERYARD, W97 MIT, Next Wave Festival). In addition to lighting, Chu-hsuan's passions include puppeteering, model-making and lighting instrument design. www.chuhsuanchang.com
CHRIS PORTER (SOUND DESIGNER)
CHRIS PORTER (he/him/his) is a writer, composer, and sound designer of podcasts, concert works, film, theater, and immersive events that have been seen, heard, and experienced around the world. Chris is the Creator, Co-Director, and Composer of the award-winning SOLAR: The Podcast, available on all podcasting platforms. He also serves the Associate Artistic Director for The Speakeasy Society, an immersive entertainment company that creates intimate and epic work in unexpected places. He is a frequent collaborator with the Independent Shakespeare Company (including Othello and Pericles) and The Griffith Park Free Shakespeare Festival in Los Angeles. He earned his MFA in Music Composition from California Institute of the Arts and a BMA in Music Composition from Baldwin-Wallace University.
HSUAN-KUAN HSIEH (VIDEO PROJECTION DESIGNER)
Hsuan-Kuang Hsieh (she/her/hers) is a Taiwanese multimedia artist and filmmaker who currently lives and works in Los Angeles. Her practices include experimental film, projection art, photography and video installation. Her projection work has been shown worldwide. Some collaborators and venues include: NY Performa Biennial, Shanghai Oriental Art Center, The Ford, LA Contemporary Dance Company and Los Angeles Chamber Orchestra.
JORDAN E. MOORE (STAGE MANAGER)
JORDAN E. MOORE (Stage Manager) is thrilled to be returning to MRT! Favorite regional credits include: A Christmas Carol (MRT), Hysterical!, Athena, and The Suburbs (Thrown Stone Theatre Company) and It's A Wonderful Life: A Live Radio Play (Pasadena Playhouse). She was also the Production Coordinator for Oregon Shakespeare Festival's digital production of The Cymbeline Project on Episodes 5 through 10. She has done various work at theaters such as NewYorkRep, Boston Court Pasadena, Musical Theatre West, the Old Globe, and the John F. Kennedy Center. Proud AEA Member. MFA: CalArts. www.jordanemoore.com