Merrimack Repertory Theatre (MRT) is Merrimack Valley's premiere theatre and a performing arts leader in the city of Lowell. By aligning your company with us you will be associated with excellence, innovation, and creativity while promoting your company and corporate brand to a culturally savvy audience.
Corporate Sponsorships at MRT are tailored to meet your company's business goals and directly engage your leadership, employees, and clients through an impactful collaboration. Additionally, our Business Partner program is a meaningful way to begin a partnership with us and gives your company easy entry into Merrimack Valley's cultural scene. By joining MRT, your company will enjoy a bevy of unique marketing, hospitality, and engagement benefits including:
Brand recognition on MRT's promotional materials
Premium tickets to performances
Invitations to exclusive MRT events
Opportunities to host company receptions in MRT's unique venues
MRT Discounts for your employees 
Read more about the benefits and impact of the Business Partner program 
and partner with us today!
For more information, please contact Bonnie J. Butkas, Executive Director. Photos: The Haunted Life
THANK YOU TO OUR SPONSORS!
Enterprise Bank Box Office
The Nancy L. Donahue Theatre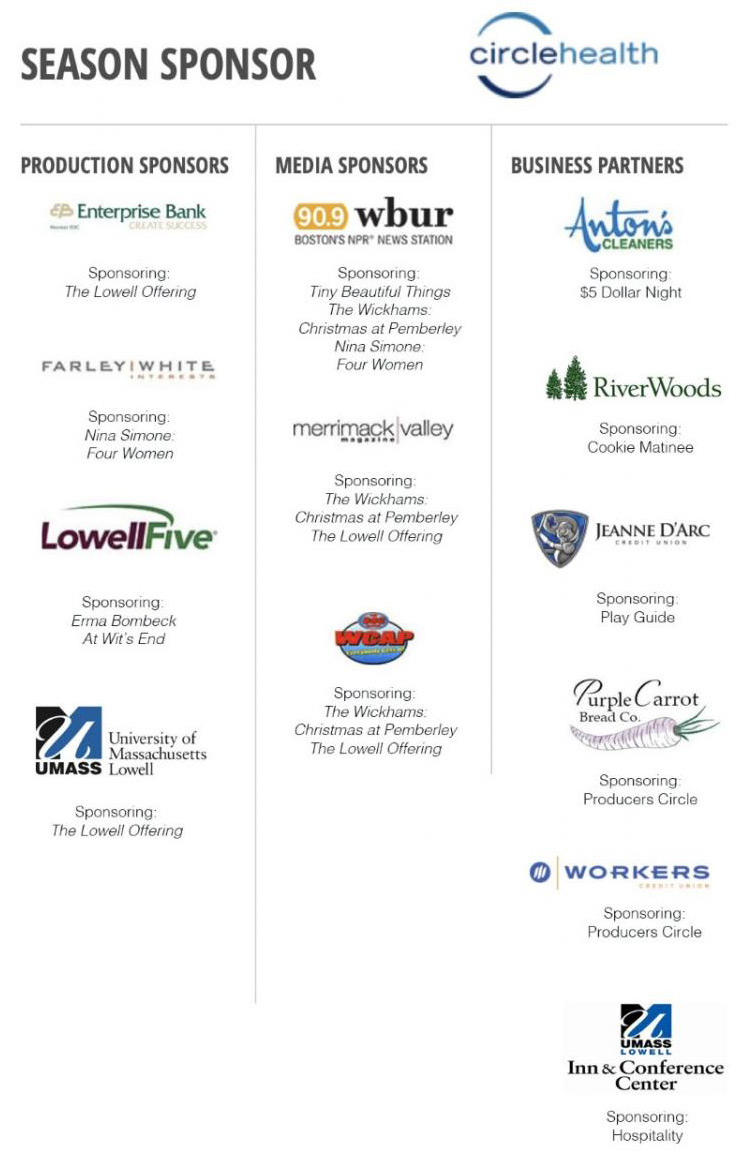 Visit Our Sponsors
https://www.acc-umlinnandconferencecenter.com/
https://LowellFive.com
PHOTO (l-r) Tina Fabrique, Vichet Chum, Raviv Ullman, Joel Colodner, Vichet Chum, Raviv Ullman, Caroline Neff, Joel Colodner, and Tina Fabriquein The Haunted Life. Photo by Meghan Moore.