Details
Select seats (PINK ■ ZONE D seats only), strictly limited availability.
$10 off other regular priced seats with same promo code.
Not valid on Super Savers. No exchanges, no refunds. Thank you.
More details here
$10 OFF MOST SEATS WITH PROMO CODE HAPPY40TH 
$10 off any seat except SuperSaver seats. Valid for performances Oct. 17 -- Nov. 4 only. No refunds, no exchanges.
Buy Tickets
Show is approximately 85 minutes, with no intermission.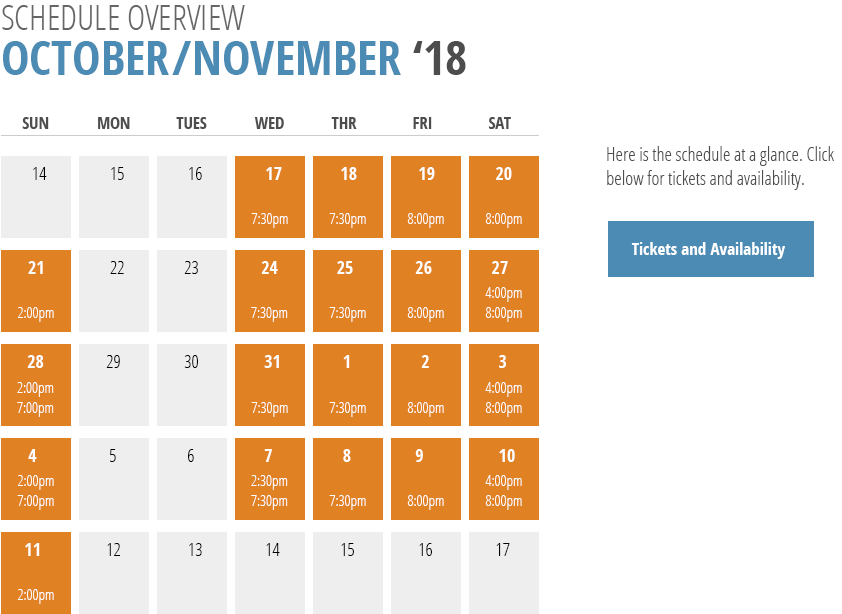 Events
$5 NIGHT: October 17, 7:30 pm (Tickets on sale at 4:30 pm)
WINE DOWN FRIDAY: October 19, post-show
MRTEA: October 21, 1:30 pm
COOKIE MATINEE: September 19, 1:30 pm
LOWELL NIGHT: October 25, 7:30 pm (Tickets on sale at 4:30 pm)
ASK THE ARTISTS POST-SHOW DISCUSSION: October 25 and November 1
EDUCATOR & MILITARY DISCOUNT DAY: October 27, 4:00 pm
LADIES NIGHT: November 1, 6:00 pm (must RSVP)
OPEN CAPTIONING: November 4, 2:00 pm
Click here for more information about the events listed above.
Student Matinees
POSSIBLE DATES:
October 30, 10:30 am
November 6, 10:30 am
For schools interested in booking a student matinee, click here for more information.
Creative Team
Joe Kinosian (Book and Music, The Suspects)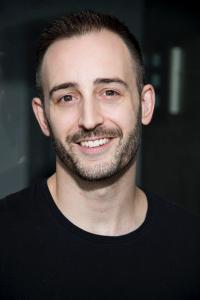 Joe Kinosian (Book and Music) is the co-book writer (with lyricist Kellen Blair) and composer of Murder For Two, which he's also performed in nearly 700 times as The Suspects. Murder For Two had its world premiere at Chicago Shakespeare Theater, receiving the Joseph Jefferson Award for Best New Musical and earning Joe a nomination for Best Leading Actor, before going on to an acclaimed off-Broadway run, where it earned Drama Desk, Drama League, and Outer Critics Circle Award nominations. A two-year national tour and well-received productions in Japan, China, Korea, England, Chile, and Argentina followed. Joe's work with Kellen has been showcased at The Kennedy Center, Lincoln Center, and on Broadway at the Theatre World Awards, and their new musical Diane, a backstage farce, is currently in development at Second Stage Theater. Joe received the ASCAP Foundation Mary Rodgers/Lorenz Hart Award for excellence in musical theater, selected and presented by Stephen Schwartz, and the Harrington Award from the BMI Workshop. His acting credits include the off-Broadway hit Dear Edwina, as well as regional productions of the Mae West bio Dirty Blonde (with Emily Skinner), An Act of God, and the title role in the comedy The Nerd. www.kinosianandblair.com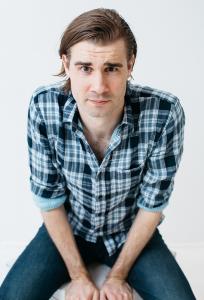 Martin Landry (Marcus) has worked Off-Broadway, regionally, and toured, either as an actor, musician, music director, or a multihyphenate combination. Some of his credits include playing a hipster dragon/apple-loving horse/exasperated chicken in the world premiere of Dragons Love Tacos and Other Stories (TheatreworksUSA, co-written by Joe Kinosian), the national tour and regional productions of Murder for Two (co-written by Joe Kinosian), and his first theatrical job in NYC where he met his wife, Dear Edwina (stand-by for Joe Kinosian).  He's done a lot of other stuff, but the point is that Joe Kinosian is great, and Martin is thrilled to appear opposite him. For more info, visit www.martinlandry.net. Love to Janice (always) and enjoy the show!
JC Clementz (Director) is excited to make his MRT debut. His directing credits include The All Night Strut!, Murder for Two, Irving Berlin's I Love a Piano, The Devil's Music: The Life and Blues of Bessie Smith, The Doyle & Debbie Show, Forever Plaid, and five seasons of Rep Lab (Milwaukee Repertory Theater) and the New York premiere of Waiting: A Song Cycle (The World's Stage/Cherry Lane). As Casting Director at Chicago's Steppenwolf Theatre Company, and previously at Milwaukee Rep, JC has cast over 75 productions out of Chicago and New York City. Highlights include the world premieres of Tracy Letts' The Minutes and Linda Vista, The Doppelganger (an international farce) starring Rainn Wilson, and Antoinette Nwandu's Pass Over, which was filmed at Steppenwolf by Spike Lee and made its debut at the 2018 Sundance Film Festival. He most recently cast and served as Artistic Producer on Steppenwolf's world premiere production of Bruce Norris' Downstate, which will transfer to The National Theatre of Great Britain in spring of 2019. JC holds an MFA in Directing from Western Illinois University. Much love to Phil and Tinkin. www.jcclementz.com
Kellen Blair (Book and Lyrics)
Kellen Blair (Book and Lyrics) is the Drama Desk nominated co-creator of Murder For Two, which ran for over a year off-Broadway (Second Stage Uptown; New World Stages) and has been continually produced across the United States and internationally since 2014.  Kellen and co-writer Joe Kinosian are the recipients of the Joseph Jefferson Award for Best New Musical Work in Chicago (2011) and the ASCAP Foundation Mary Rodgers / Lorenz Hart Award (2013). Their work has been showcased on Broadway, at the Kennedy Center, and in theaters across the country. Kellen is also a co-writer of Diane Steals the Show (in development with Second Stage Theatre), Scrooge in Love (available through Tams-Witmark), and Just Between the All of Us (commissioned by Pittsburgh CLO). Updates and sheet music can be found at www.kinosianandblair.com
Regina García (Scenic Designer)
Regina García (Scenic Designer) A Chicago-based scenic designer, Regina has long standing relationships with renowned Latino theaters, including Repertorio Español, the Puerto Rican Traveling Theater, INTAR, Teatro Vista, and Pregones Theater. Regina is a Fellow of the NEA/TCG Career Development Program for Designers and the Princess Grace Awards, USA. She is an ensemble member with Rivendell Theatre Company, Advisory Board member of the Latinx Theatre Commons, and a Regional Associate Member of the League of Professional Theatre Women. Recently completed projects include Steppenwolf Theatre Company, GALA Hispanic Theatre (Helen Hayes Nomination), and Denver Center for the Performing Arts. She joins the Design Faculty at DePaul this Fall.
Misti Bradford (Costume Designer)
Misti Bradford (Costume Designer) MRT: Debut. Proud member of USAA Local 829, Theatre Arts Department Chair and Associate Professor of Costume Design at the University of Wisconsin Parkside in Kenosha, WI. Misti's most recent design and costume crafts artisan credits include: American Players Theatre, Milwaukee Repertory Theatre, Door Shakespeare, Children's Theatre of Madison, First Stage Children's Theatre, Milwaukee Chamber Theatre, Utah Festival Opera and Musical Theatre in Logan, Utah, PCPA Theaterfest in Santa Maria, CA, Michigan Shakespeare Festival.
Aimee Hanyzewski (Lighting Designer)
Aimee Hanyzewski (Lighting Design) Aimee is glad to be working with the Merrimack Repertory Theatre. She is the Resident Lighting Designer at Edgewood College in Madison, WI.  She has designed for Milwaukee Repertory Theater for over 13 years for such hits as Always Patsy Cline, Black Pearl Sings!, The Devil's Music: The Life and Times of Bessie Smith, I Love a Piano, Liberace, Debbie and Doyle, Ain't Misbehavin', From My Hometown, Fire on the Bayou, Grafton City Blues, Venus in Fur, The Year of Magically Thinking, A Christmas Carol and many others.  Other theaters Aimee has designed for are Children's Theatre of Charlotte, In Tandem Theatre, Next Act Theater, Forward Theater, Madison Savoyards Ltd, and The Legacy Theatre. Not only a lighting designer, in 2010 Aimee was nominated for a Jefferson Award in Chicago for her scenic design of Of Mice and Men for Oak Park Festival Theatre.
David Remedios (Sound Designer)
David Remedios (Sound Designer) MRT: The Villains' Supper Club; KNYUM; The Royale; Women in Jeopardy! (Onstage Theatre Award); The Making of a Great Moment; Abigail/1702; Home of the Brave; I and You; Out of the City; Oceanside; The Best Brothers; Year Zero (original music and sound); Two Jews Walk into a War; The Blonde, the Brunette, and the Vengeful Redhead. Recent: Berta, Berta; A Late Morning (in America) with Ronald Reagan, Contemporary American Theater Festival; Old Money, Commonwealth Shakespeare Company; The Curious Incident of the Dog in the Night-Time (IRNE Award), SpeakEasy Stage Company. Regional: American Repertory Theatre; Huntington Theatre Company; Portland Stage; Trinity Rep; Geva Theatre Center; The Studio Theatre; 59E59; Theatre for a New Audience; La Jolla Playhouse; Berkeley Rep; Center Stage Baltimore; Cincinnati Playhouse. International: Prominent arts festivals in Bogotá, Paris, Hong Kong and Edinburgh. Awards: IRNE, Connecticut Critics Circle, Elliot Norton. David is Program Head of Sound Design at Boston University, a proud member of United Scenic Artists Local USA 829, and is a founding member of MRT's Artistic Patriot Program. remediossound.com.
Ashlee Wasmund (Associate Director)
Ashlee Wasmund (Associate Director) joins the Murder for Two team from North Carolina, where she proudly serves as the head of Musical Theatre and Dance at Western Carolina University's School of Stage & Screen. She also choreographs and directs professionally around the country, most recently as the choreographer for New Light Theatre's production of Hitler's Tasters in NYC. Prior to her move to North Carolina, Ashlee worked as a Chicago-based actor, choreographer, and director with area theaters such as Milwaukee Repertory, Drury Lane Theatre, Midsommer Flight, First Folio Theatre, and Provision Theatre, among others. She holds an MFA in Acting from Western Illinois University. As always, endless love and gratitude to Colin and Fiona for holding down fort while I'm away.
Nicole Kutcher (Production Stage Manager)
Nicole Kutcher (Production Stage Manager) Nicky is thrilled to be making art with the incredible team at MRT for the seventh time! MRT: Little Orphan Danny, A Christmas Carol (Stage Manager), My 80-Year-Old Boyfriend, Women in Jeopardy, Going to See the Kid, 45 Plays for 45 Presidents (Assistant Stage Manager); 2016-2017 Stage Management/Company Management Apprenticeship. Other Selected Credits:  I and You, Dancing Lessons, Mothers and Sons, Tribes (Production Stage Manager), Vermont Stage; Quiz Show (Stage Manager), Strawdog Theatre Company; The Tennessee Williams Project (Stage Manager), All Our Tragic, Endgame, Romeo Juliet Parks Tour, Fall of the House of Usher (Assistant Stage Manager), The Hypocrites. Short Shakespeare! Macbeth (Stage Management Intern), Chicago Shakespeare Theatre. Events: First Night Burlington (Site Manager). Education: BA in Technical Theater from Columbia College Chicago.  This one goes out to Mr. Cope!
Photos
Book and Music by Joe Kinosian
Book and Lyrucs by Kellen Blair
Directed by JC Clementz
Press wishing to download high-res photos can do so from our Flickr collection.