Creative Team
Penny Fuller (Virginia Carpolotti)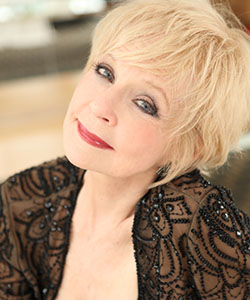 MRT: A Delicate Balance (Winner of the 2009 IRNE award "Best Supporting Actress" for her role as Claire). Broadway: Barefoot in the Park, Cabaret, Rex, Applause (Tony Award Nomination), An American Daughter, Neil Simon's The Dinner Party (Tony Award Nomination), Dividing the Estate. Off-Broadway/New York: A New Brain, Lincoln Center Theatre; As You Like It, Richard III, Henry IV pt. 1&2, Shakespeare in the Park; Three Viewings, New England, Five By Tenn, Manhattan Theatre Club ; Beautiful Child, Vineyard Theatre; Southern Comforts, Primary Stages; The Cherry Orchard, York Theatre Company; Love, Loss, and What I Wore, Daryl Roth Productions. Regional: The Seagull, The Glass Menagerie, A Little Night Music, Do I Hear a Waltz? International: Sail Away, Lost Musicals -London. Television: Emmy award for The Elephant Man; Emmy nominations for: China Beach, Cat on A Hot Tin Roof, NYPD Blue, Miss Rose White, E.R; Recurring roles on: Fortune Dane, Beverly Hills, 90210, and Mad About You. Film: The Beverly Hillbillies, All the President's Men. Other: In 2004, Ms. Fuller began a collaboration with Barry Kleinbort who encouraged her to enter the world of Cabaret. He created for and directed Ms. Fuller in 7 acts seen in New York in: The Metropolitan Room, Birdland, and 54 Below. They co-taught at the O'Neill Cabaret Conference for seven years, and it was during the last year that Ms. Fuller had the idea to have Barry set her monologue in Manhattan Theatre Company's Three Viewings to music. This creation became 13 Things About Ed Carpolotti which was workshopped at O'Neill and had its first production in New York at 59E59Street Theatres.
Paul Greenwood (Musical Director/Pianist)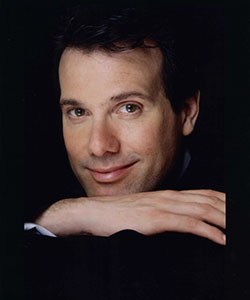 Paul is a New Jersey native, is well known as a pianist, arranger, and singer in New York City. For five years, he was resident pianist at the legendary New York nightclub, The Improvisation. Off-Broadway, he starred in the hit revue, Our Sinatra. He appeared with two time Tony winner, Helen Gallagher, in Tallulah Tonight. At Manhattan Theatre Club, he performed with Mary Cleere Haran in her acclaimed 1950's tribute. Nationally and internationally, he has performed in concert halls, clubs, and cabarets including: The Oak Room at the Algonquin, Feinstein's, Birdland, Caesars, Town Hall, and Jazz at Lincoln Center. Paul has accompanied numerous performers in concert, television, and cabaret including:  George Burns, Nancy Lamott, Jane Olivor, Art Garfunkel, Ann Hampton Callaway, Hilary Kole and Sylvia McNair. He was musical director in New York and Paris for the Bi-lingual Revue Metropolita(i)n. He arranged, music directed, and appeared in the original O'Neill Theater Center workshop of Thirteen Things About Ed Carpolotti, as well as the New York premiere. Recently, he has performed critically acclaimed cabaret shows with Penny Fuller, Anita Gillette  and Loni Ackerman. Paul is a recipient of a Bistro Award and a MAC (Manhattan Association of Cabarets and Clubs).
Barry Kleinbort (Book, Music, Lyrics, and Direction)
Barry Kleinbort has earned the prestigious Edward Kleban Foundation Award for Lyric Writing, two Gilman-Gonzalez Musical Theatre Awards, the Second Stage Musicals Writers Award, the Jamie deRoy ASCAP award, two Back Stage Bistro awards and ten Manhattan Association of Cabarets (MAC) awards for his directorial and songwriting efforts. He wrote the book and lyrics for the musical, WAS, (music by Joseph Thalken) which was the inaugural production of the American Musical Theater Project in Chicago and is now being readied for other productions.  He co-wrote with David Levy PERFECT HARMONY, a musical play about the lives of the Barry Sisters. As a composer/lyricist, he wrote music and lyrics for Angelina (based on "That Summer –That Fall" by Frank D. Gilroy,) Second Avenue (book by Allan Knee, for the Manhattan Punchline off-Broadway,) and Metropolita(i)n, a bi-lingual musical revue, which has successfully played both in Paris and New York.  He provided scripts for eight PBS TV specials and most recently was an "artistic consultant for "Cathouse: The Musical" for HBO.  His newest musical "13 Things about Ed Carpolotti" starring Penny Fuller had a successful off-Broadway run at 59E59 theater and is now heading for regional theaters.
  Mr. Kleinbort has directed and/or written material for Brent Barrett, Petula Clark, Marvin Hamlisch, Michael Feinstein, Kaye Ballard, Regis Philbin, John Barrowman, Gregg Edelman, Tony Roberts, Anita Gillette, Karen Mason, Sylvia McNair, Heather MacRae, and many, many others. He has also directed topical revues and intimate theater productions, including Rita Gardner's "Try to Remember- A Look at Off-Broadway" and Kaye Ballard's off-Broadway revue, "Kaye Ballard-Working 42nd Street at Last!"   He adapted and directed the New York premiere of Bob Merrill's musical, "The Prince of Grand Street" for the Jewish Rep and John Epperson's SHOW TRASH at the Studio Theater in Washington, D.C. which just transferred to off-Broadway for a limited run.  A highly acclaimed revue of his theater songs, BIG CITY RHYTHM, is available on Harbinger Records.
Jeffrey Hatcher (Based on a play by)
Jeffrey Hatcher's Broadway credits include: NEVER GONNA DANCE (book). Off-Broadway credits include: THREE VIEWINGS and A PICASSO at Manhattan Theatre Club; SCOTLAND ROAD and THE TURN OF THE SCREW at Primary Stages; TUESDAYS WITH MORRIE (with Mitch Albom) at The Minetta Lane; MURDER BY POE, THE TURN OF THE SCREW, and THE SPY at The Acting Company; NEDDY at American Place; and FELLOW TRAVELERS at Manhattan Punchline. Other credits/theaters include: COMPLEAT FEMALE STAGE BEAUTY, MRS. MANNERLY, MURDERERS, MERCY OF A STORM, SMASH, ARMADALE, KORCZAK'S CHILDREN, TO FOOL THE EYE, THE FALLS, A PIECE OF THE ROPE, ALL THE WAY WITH LBJ, THE GOVERNMENT INSPECTOR, DR. JEKYLL AND MR. HYDE and others at The Guthrie, Old Globe, Yale Rep, The Geffen, Seattle Rep, Cincinnati Playhouse, Cleveland Playhouse, South Coast Rep, Arizona Theater Company, San Jose Rep, The Empty Space, Indiana Rep, Children's Theater Company, History Theater, Madison Rep, Intiman, Illusion, Denver Center, Oregon Shakespeare Festival, Alabama Shakespeare Festival, Milwaukee Rep, Repertory Theater of St. Louis, Actors Theater of Louisville, Philadelphia Theater Company, Asolo, City Theater, Studio Arena and dozens more in the U.S. and abroad. Film and Television credits include: "Stage Beauty," "Casanova," "The Duchess," and episodes of "Columbo." Grants/Awards: NEA, TCG, Lila Wallace Fund, Rosenthal New Play Prize, Frankel Award, Charles MacArthur Fellowship Award, McKnight Foundation, Jerome Foundation, and Barrymore Award Best New Play, IVEY Award Best New Play. He is a member and/or alumnus of The Playwrights Center, the Dramatists Guild, the Writers Guild, and New Dramatists.
Bill Clarke (Scenic Designer)
Brian J. Lilienthal (Lighting Designer)
Casey Leigh Hagwood (Stage Manager)
Photos
13 Things About Ed Carpolotti. Book, Music, Lyrics, and Direction by Barry Kleinbort. Based on a play by Jeffrey Hatcher. Running at Merrimack Repertory Theatre November 28 - December 21, 2014.
Click on any photo below for a larger view.
Reviews
Broadway World: Illustrious stage and screen actress Penny Fuller brings all of her charm and incandescence to Merrimack Repertory Theatre this holiday season in the lovely one-woman musical.
The Nashua Telegraph: The only person my companion could even imagine taking the reins on the role would be the late, great Broadway doyenne, Elaine Stritch. Thank goodness we are lucky enough to have Fuller giving us this level of quality in nearby Lowell.
The Lowelll Sun: (Penny Fuller is) offering a master class in "13 Things," giving a commanding performance that transforms the stereotype of a sheltered spouse into a three-dimensional portrait of a committed and loving wife. Spending an evening in her company is the best reason to learn "13 Things About Ed Carpolotti."
The Boston Globe: (Penny) Fuller is everything you could want in the star of a show like this, touching and funny and able to communicate ranges of emotion with small gestures.
Talkin' Broadway: The last time Fuller performed at MRT...she won the Best Supporting Actress IRNE Award...and she would appear to be a front runner in a different category this time around.
Lowell Sun Preview Article featuring interviews with Penny Fuller and Barry Kleinbort
Read the Press Release or visit the Press Resoure Page
"Penny Fuller is technically flawless in this intriguing solo musical." - Theatremania