Creative Team
The Rise and Fall of Holly Fudge
Merrimack Repertory Theatre
Courtney Sale, Nancy L. Donahue Artistic Director
And
Bonnie J. Butkas, Executive Director
Present
The Rise and Fall of Holly Fudge
A holiday play by Trista Baldwin
Production Stage Manager – Madolyn Friedman*
Directed by Courtney Sale
Live on Zoom October 22, 2020
Recording available at MRT.ORG/HOLLYFUDGE from 9 p.m. October 23 through 5 p.m. on October 26, 2020
CAST (in order of appearance)
Kate Wisniewski* as Carol
Milicent Wright* as Chris
Khanh Doan* as Holly
Alexis Scott* as Jordan
*All actors and the stage manager are members of Actors' Equity Association, the Union of Professional Actors and Stage Managers in the United States.
TIME AND PLACE
Springfield, Massachusetts; December 2020
Mostly at Carol's house, or just outside
ADDITIONAL STAFF
Lee Viliesis - Production Manager
Kaitlyn Crockett - Zoom Operator
THANK YOU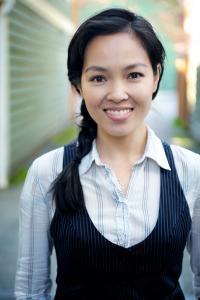 (Holly) Khanh is based in Seattle and has performed in various regional theatres in the Pacific Northwest, such as A Contemporary Theatre (Dracula: Mina's Quest, The Crucible, King of the Yees, Ramayana, A Christmas Carol); Seattle Children's Theatre (The Little Prince, Peter Pan, Sleeping Beauty); Seattle Repertory Theatre (A Doll's House, Part 2); Book-It Repertory Theatre (A Tale for the Time Being); Village Theatre (Jesus Christ Superstar); Wooden O (Macbeth, Julius Caesar); Artists Repertory Theatre (The Talented Ones); and Portland Playhouse (You For Me For You). Khanh is also a Core Company Member at A Contemporary Theatre.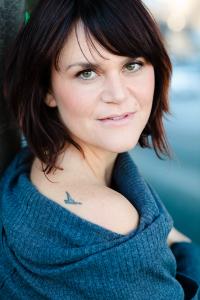 (Jordan) Alexis is a member of AEA and has spent the last decade acting in new play premieres across the country. Recent NY credits include: Dishwater Blonde, a solo show about Eva Braun by David Turkel; Claire Keichel's Paul Swan is Dead and Gone with The Civilians; and Gabriel Jason Dean's Triggered at Cherry Lane Theatre with The Amoralists. She has performed in two premieres at the international Fusebox Festival in Austin, two premieres at the Seattle Children's Theater, and was a team member of Philadelphia Improv. Some favorite roles include Veronica in Hot Belly, Catalina in Catalina de Erauso, Bev/Kathy in Clybourne Park, Twisted Finger Jake in The Threepenny Opera, and Girl in Edge of Peace. She is most inspired by rigorous collaborative processes, multi-hyphenates, and queer narratives. She received her MFA in Acting from The University of Texas at Austin. Alexis currently teaches Language Arts for the Jubilee School in West Philadelphia and is the Lab Coordinator for Kerrigan and Lowdermilk's THE MAD ONES Lab. www.alexisleahscott.com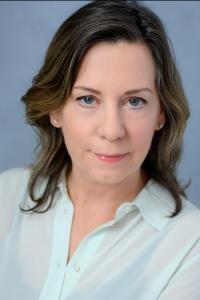 (Carol) Kate Wisniewski is an actor, producer and educator living in Ashland, OR. Recent stage credits include, Oregon Shakespeare Festival (Bring Down the House, Parts 1&2), A Contemporary Theatre (A Christmas Carol), Seattle Repertory Theatre (Last of the Boys), Seattle Shakespeare Company (Richard III, Bring the House Parts 1&2). She has worked at other Seattle area theatres, including Book-It Repertory Theatre, Tacoma Actors Guild, Empty Space, New Century Theatre, and New City Theatre. Regionally she has appeared at the American Repertory Theatre in Cambridge, MA. Kate is a graduate of the American Repertory Theatre Institute at Harvard. She is an adjunct faculty member at Seattle University in the Performing Arts and Arts Leadership Department and is a Certified Fitzmaurice Voicework instructor. Kate is a founding member of upstart crow collective, a classical company that produces work with all-female and non-binary casts.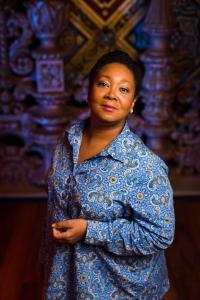 (Chris) Milicent is thrilled to be working with Courtney Sale again! She was directed by Courtney in the Indiana Repertory Theatre's (IRT) production of A Christmas Carol and Indianapolis Shakespeare's Twelfth Night. Milicent also worked for Courtney in the IRT's education department and Summer Conservatory for Youth. The two also share a common connection of working for Bryan Fonseca of the Phoenix Theatre and the Fonseca Theatre Company (FTC) in Indianapolis, who recently passed of complications related to the coronavirus. Her work in The Rise and Fall of Holly Fudge is dedicated to the memory and legacy of Mr. Bryan Fonseca. Milicent was in Fairfield, the closing production of the Phoenix Theatre on Park Street and in Building the Wall, the inaugural production of FTC. Other recent productions include, The Watsons Go to Birmingham 1963, You Can't Take It with You, Romeo and Juliet, and Bridge and Tunnel at the IRT. This summer, as a new company member of Indianapolis Shakespeare Company, she participated in their two summer virtual projects, A MidZoomer Night's Dream and Past Words Present Times.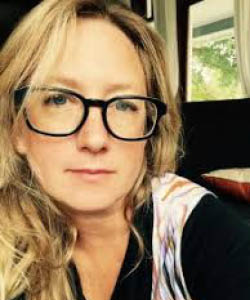 (Playwright) Recipient of Jerome Fellowships, a McKnight Advancement Grant, a Saison Foundation residency, a Japan Foundation Grant, and an alum of the Core Writer program at the Playwrights' Center of Minneapolis, Trista's work has been developed and produced around the country and internationally in the UK, Australia, Chile and Japan. Producers of Trista's work includes Women's Project and Productions, The Flea Theatre, The Guthrie, Bricolage Production Co., New Georges, Circle X, Bloomington Playwrights', Red Eye, Live Girls!, Saison Foundation of Japan and Santiago a mil Festival of Chile.
Trista is also the Co-Founder of Workhaus Playwrights' Collective, producing 25 new play productions over ten years together.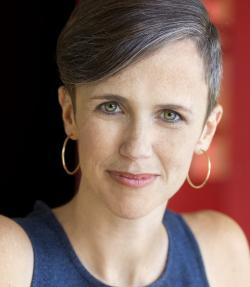 (Director) Courtney Sale joined MRT as the Nancy L. Donahue Artistic Director this year after serving as the Artistic Director of Seattle Children's Theatre (SCT), the nation's leading generator of new work for young audiences. At SCT, she directed Black Beauty, The Miraculous Journey of Edward Tulane, and The Little Prince. Commissioned writers under her tenure include Idris Goodwin, Cheryl West, Allison Gregory, Karen Hartman, Trista Baldwin, Ramon Esquivel, and James Still. Recent directing projects: Tiny Beautiful Things at Seattle Rep, the world premiere of Steven Dietz's The Ghost of Splinter Cove at Children's Theatre of Charlotte, and Ellen Fairey's Support Group for Men at Contemporary American Theatre Festival (CATF). Other credits include The Cake; Wild Horses; Not Medea (CATF); Mr. Burns, A Post Electric Play; On Clover Road (The Phoenix Theater); Twelfth Night and The Tempest (Indy Shakes); and Zen Prayers & Songs (Fusebox), written and performed by Kirk Lynn.
Prior to SCT, she spent three years as Associate Artistic Director at Indiana Repertory Theatre, where directing credits include the world premiere of April 4, 1968:  Before We Forgot How to Dream, The Mountaintop, The Mousetrap, Jackie & Me, And Then They Came for Me, The Giver, and two iterations of A Christmas Carol. With the Duplicates, she co-created The Fictional Life of Historical Oddities, September Play, The Man with the Dancing Eyes, and The Poison Squad (Austin Critics Award). She has developed new work at Denver Center Theatre Company's Summit New Play Festival, The New Harmony Project, Write Now, Dorset Theatre Festival, TheatreWorks (Palo Alto), New Plays for Young Audiences at NYU/Provincetown Playhouse, and The Orchard Project.
Other distinctions included Indianapolis Business Journal's Forty Under Forty designation, Cornish College of the Arts Distinguished Alumni Award, and the keynote speaker at the 2017 International Council of Fine Arts Deans. She has taught at Summer at Cornish College of the Arts, Seattle Children's Museum, Temple College, and the University of Texas at Austin.
Ms. Sale is a proud member of the National Theatre Conference and the theatrical union the Stage Directors and Choreographers Society. She is represented by Abrams Artists NYC. BFA, Cornish College of the Arts. MFA, The University of Texas at Austin.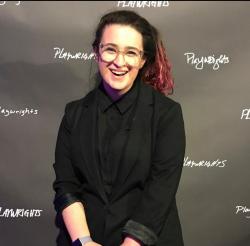 (Production Stage Manager) Madolyn is thrilled to collaborate with Courtney, Trista, the Cast, and the folks of Merrimack Repertory Theatre. Off-Broadway: A Strange Loop, Heroes of the Fourth Turning, If Pretty Hurts…, The Thanksgiving Play (Playwrights Horizons), Wolf Play (Soho Repertory Theater). Regional:The Cake, Memoirs of a Forgotten Man, We Will Not Be Silent, Welcome to Fear City, Not Medea (CATF); Nutcracker, Sleeping Beauty (Boston Ballet). Education: BFA Stage & Production Management, Emerson College.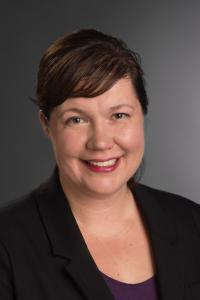 (Executive Director) Bonnie most recently served as the Senior Director of Foundation Relations at Rochester Institute of Technology, where she led the university's strategic efforts to secure funding from private and family foundations. During her tenure, RIT secured its first significant gifts from the Howard Hughes Medical Institute, the Bill and Melinda Gates Foundation, and the Henry Luce Foundation. Prior to RIT, she was the Director of Development at Geva Theatre Center in Rochester, NY overseeing five years of unprecedented growth in the company's contributed income and playing a key role in a successful $10 million capital campaign to renovate the building and grow the theatre's endowment. In New York City, she served as the Director of External Relations at the York Theatre Company, the Director of Development and Communications at TADA! Youth Theatre, Directing Assistant on The Lion King on Broadway, and the co-founder of Lexington Dance Collective. Prior to NYC, she was the Managing Director of Bristol Valley Theater in Naples, NY. Butkas was raised in the Finger Lakes region of Western New York and holds degrees in Journalism and Dance from the University at Buffalo. She volunteered with the Association of Fundraising Professionals of Genesee Valley, Girl Scouts of Western New York, and the YWCA of Rochester & Monroe County. In Fall 2016, she co-founded Action Together Rochester. She serves on the MCC's Academic Arts Center Advisory Board and lives in Westford.
Video
MRT's FIRST LOOK reading of The Rise and Fall of Holly Fudge, available to view through midnight Sunday, October 25.