Details
Select seats (PINK ■ ZONE D seats only), strictly limited availability.
$10 off other regular priced seats with same promo code.
Not valid on Super Savers. No exchanges, no refunds. Thank you.
More details here
$10 OFF MOST SEATS WITH PROMO CODE CELEBRATE 
$10 off any seat except SuperSaver seats. Valid for performances Jan. 9 - Jan. 27 only. No refunds, no exchanges.
Buy Tickets
Show is approximately 90 minutes, with no intermission.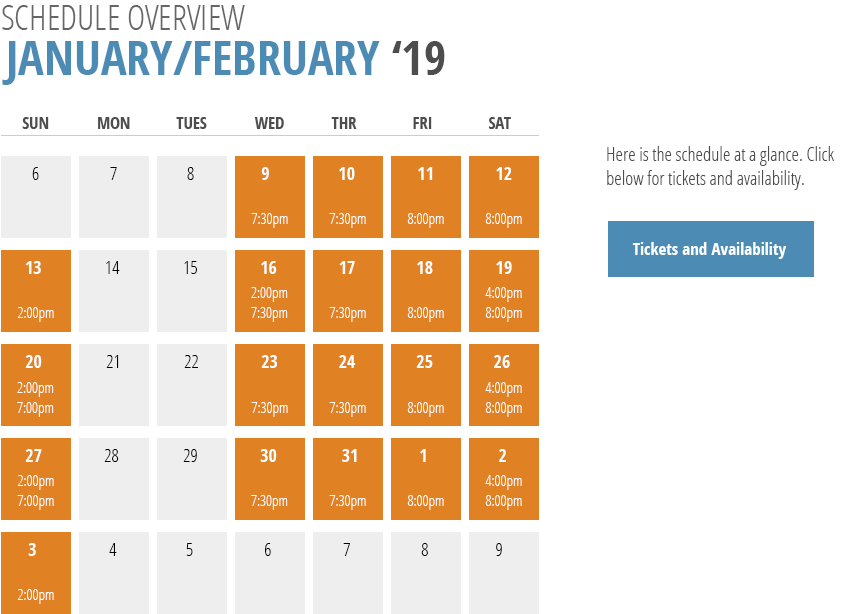 Events
$5 NIGHT: January 9, 7:30 pm (Tickets on sale at 4:30 pm)
WINE DOWN FRIDAY: January 11, post-show
OPENING NIGHT: January 12
MRTEA: January 13, 1:30 pm
COOKIE MATINEE: January 16, 1:30 pm
LOWELL NIGHT: January 17, 7:30 pm (Tickets on sale at 4:30 pm)
ASK THE ARTISTS POST-SHOW DISCUSSION: January 17 and 24
EDUCATOR & MILITARY DISCOUNT DAY: January 19, 4:00 pm
LADIES NIGHT: January 24, 6:00 pm (must RSVP)
OPEN CAPTIONING: January 27, 2:00 pm (must RSVP)
Click here for more information about the following events above.
Creative Team
Brian Beacock (Waiter, Stephen)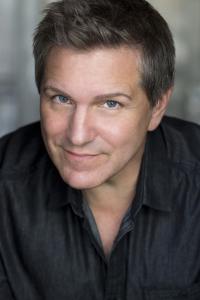 Brian Beacock is an actor, writer, producer, VO actor, singer and musician from the San Francisco Bay Area. After completing the National Tour of Les Miserables, he moved to Los Angeles where he has created a diverse career including numerous cartoon series and video games such as: Digimon, Bleach, Naruto, Sailor Moon, Durarara, Blue Exorcist, Doraemon, and more. Theater credits include: the West Coast Premiere of Elegies, When Pigs Fly, the insane one-man show Fully Committed and as a Broadway Axl Rose in Andy Prieboys' cult favorite, White Trash Wins Lotto. Television appearances on Kath & Kim, CSI, General Hospital, Playing it Straight, Passions, Imagination Movers, and NBC's The Rerun Show. Films include: Mulholland Drive, Laws of the Universe-Part 1, Buying The Cow, Circuit, To The Beat, Racing Colt, and the upcoming horror feature Hollow Scream. He has been a musical guest on Late Night with Conan O'Brien, and was honored to sing to Betty White on The Tonight Show with Jay Leno. He wrote and created the zombie comedy digital series Acting Dead (currently streaming on Amazon Prime) which won one of the first ever Primetime Emmys in the new short form category. Follow him on Twitter and Instagram @brianbeacock.
Daina Michelle Griffith (Woman, Irene)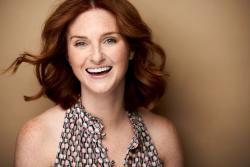 Daina Michelle Griffith is making her Merrimack debut! In 2018, Daina had the good fortune of performing in Sean Daniels' The White Chip at City Theatre in Pittsburgh, PA. Regional/NYC: The Gateway, Human Race Theatre, Pittsburgh Public Theater, Kansas City Starlight, NYC International Fringe, Quantum Theatre, heXtc (Theatre Row), among others. Film/TV: Christopher Nolan's The Dark Knight Rises (Foley's Wife), Holidaysburg (Angela), Intrusion (waitress), Richard Linklater's Upcoming Where'd You Go, Bernadette (Julie), Unsinkable (Countess Of Rothes), "Guiding Light", WGN's "Outsiders" (recurring Season 1, Rikki), "ACTORS ON: Macbeth". Daina was honored to be named Performer of the Year by the Pittsburgh Post Gazette in 2013, and was nominated for The Carol R. Brown Emerging Artist Award in 2015. @dainamgriffith www.dainamichellegriffith.com
Joel Van Liew (Man, Peter)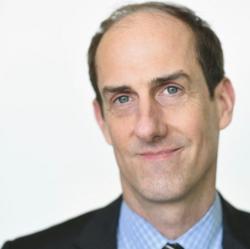 Joel is thrilled to be back at Merrimack after having played Owen in Lila Rose Kaplan's Home of the Brave in 2016. Other regional credits include The 39 Steps (Geva Theatre, directed by Sean Daniels), The Ver**on Play (ATL Humana Festival), Seven Homeless Mammoths Wander New England (Two River), Pride and Prejudice (ATL), Well (ACT), The Pavilion (City Theatre). NY Theatre: Well (Public), From Up Here (MTC), The Hunt (HB Studio Theatre), Park Slope Minstrel Show by Eleanor Burgess (finalist, Samuel French Play Fest), Permanent Visitor (New Georges), Born of Conviction (White Bird Prods).  Film: The Girl in the Book, Crown Heights, Monster. TV: Escape at Dannemora, Billions, Broad City, Blue Bloods, Girls, Boardwalk Empire, Nurse Jackie, Law & Order. Member of the Actors Center.
MRT: Miss Bennet: Christmas at Pemberley, The Villains' Supper Club, Little Orphan Danny, Silent Sky, My 80-Year-Old Boyfriend, Women in Jeopardy!, The Making of a Great Moment, 45 Plays for 45 Presidents, Home of the Brave, Tinker to Evers to Chance, I and You, The Lion. Sean has directed at Manhattan Theatre Club (The Lion, Drama Desk Award & Theatre World Award, nominated for Lucille Lortel and Outer Critics Circle), Lynn Redgrave (NYC), The Kennedy Center (Washington, D.C.), St. James (West End, London – The Lion, winner of Best New Musical), Actors Theatre of Louisville, Arena Stage, Portland Center Stage, Geva Theatre, Old Globe, The Geffen, Playmakers Rep, A.C.T., Cleveland Play House, Milwaukee Rep, Alliance Theatre, California Shakespeare, Dad's Garage Theatre Company, Swine Palace, Neo-Futurists, Aurora Theatre, Crowded Fire and the Edinburgh Festival Fringe. Sean has been named "one of the top fifteen up & coming artists in the U.S., whose work will be transforming America's stages for decades to come" and "One Of 7 People Reshaping And Revitalizing The American Musical" by American Theatre magazine. His direction and shows have won "Best Play" and "Best Director" in the Bay Area, Portland, Rochester and Atlanta. He's previously served as the Artist-At-Large for Geva Theatre Center and spent four years at the Tony Award-winning Actors Theatre of Louisville as the theatre's Associate Artistic Director (where he directed 17 productions including five Humana Festivals). Mr. Daniels is the former Associate Artistic Director/Resident Director of the California Shakespeare Theater and before that spent a decade as the Artistic Director and Co-Founder of Dad's Garage Theatre Company in Atlanta. He has developed new work with the Eugene O'Neill Theatre Center, Ars Nova, PlayPenn, Lark, PlayLabs, New York Stage and Film, Asolo Rep, Goodspeed Opera, Weston Playhouse, Bay Area Playwrights, Magic Theatre and was the first American director asked to attend the Baltic American Playwrights Conference in Hiiumaa, Estonia. He'd love to hear from you, on Twitter @seandaniels or email him at sean.daniels@mrt.org.
Wendy Macleod (Playwright)
Wendy Macleod's play The House of Yes became a Sundance award-winning Miramax film starring Parker Posey. Women in Jeopardy! premiered at Geva Theater, directed by Sean Daniels, and is now being done around the country.  Her other plays include Sin (The Goodman, Second Stage) and Schoolgirl Figure (The Goodman Theatre) The Water Children and Juvenilia (Playwrights Horizons), and Things Being What They Are (Seattle Repertory Theatre, Steppenwolf Theatre, The Road Theater), and she contributed to Standing on Ceremony, an evening of plays about gay marriage.  She is working on a play called The Laugh Track for ACT in Seattle. Slow Food was developed at the 2015 O'Neill National Playwrights Conference, where it was performed by Reed Birney and Jane Kaczmarek. 
Apollo Mark Weaver (Scenic Designer)
Apollo Mark Weaver is a professor of theatrical design at Juniata College. Previously for MRT, he designed The Villains' Supper Club and The Making of a Great Moment. Other Regional credits include: Henry VI p.1, The Merchant of Venice, and The Merry Wives of Windsor for Utah Shakespeare Festival, and Tinker to Evers to Chance and No Child… for Geva Theatre Center. Other recent credits include The Gap, Shitheads, and Moth for Azuka Theatre; The Monster in the Hall for Inis Nua Theatre; and The Brownings and Peaceable Kingdom for Orbiter 3. Visit him on the web at www.apolloweaver.com.
Deborah Newhall (Costume Designer)
MRT: Women in Jeopardy!, The Outgoing Tide, Oceanside, Dusk Rings a Bell, Year Zero, Tally's Folly, Mrs. Mannerly, Red, Beat Generation, Mrs. Whitney, Ghostwriter, The Exceptionals, Four Places, Black Pearl Sings!, Broadway: Radio City Rockettes. Off-Broadway: Love Song (Director John Kolvenbach, 59e59 St. Theater); The Ruby Sunrise (Director Oscar Eustis, Public Theater, Lucille Lortel Nomination). Regional: Actors Theatre of Louisville, Trinity Rep, Studio Arena Theatre, Goodspeed Opera House, Opera Providence, New Rep. Opear: Tosca (Boston Lyric Opera), Werther (director Crystal Manich, Boston Lyric Opera and Opera Omaha), Film: Honest Thief (with Liam Neeson), The Possession of Hannah Grace, (with Shay Mitchell, director Diederik Van Rooijen, Sony/Screen Gems), The Haunted (Amblin Production), Liberal Arts (with Elizabeth Olsen, Zac Efron, Richard Jenkins, Allison Janney, Director Josh Radnor); Back Mask (Director Marcus Nispel); Valediction (with Ben Barnes); Madso's War, 4 Single Fathers, Hachiko (with Richard Gere, Joan Allen, director Lasse Hallstrom);  Monument Avenue (with Denis Leary); American Buffalo (with Dustin Hoffman.) Television: American Experience ("The Abolitionists"); Brotherhood, Season 1, Showtime; ZOOM, 6 seasons, 2 Emmy Nominations; Antiques Roadshow, 2 Seasons. Education: BFA, Rhode Island School of Design; MFA, UNC Chapel Hill. Other: This is her 28th production at MRT.
Brian J. Lilienthal (Lighting Designer)
MRT: 26 productions including: Miss Bennet: Christmas at Pemberley, Women in Jeopardy!, The Making of a Great Moment, The Realness: a breakbeat play, 45 Plays for 45 Presidents, Going to See the Kid.  Regional:  Over 250 productions at: Huntington Theatre; Arizona Theatre Co; Milwaukee Rep; Cleveland Playhouse; Pasadena Playhouse; South Coast Rep; Actors Theatre of Louisville (60 productions; 20 world premieres); GEVA Theatre Center; The Kennedy Center; Gloucester Stage; Cincinnati Playhouse in the Park; Arden Theatre; Trinity Rep (over 25 productions); Playmakers Rep.  Opera: Long Beach Opera; Bard Summerscape; and Portland Opera Repertory Theatre. Awards: Los Angeles Ovation Award for lighting design; MRT's Artistic Achievement Award, 2016; nominated multiple times for Boston's IRNE Award. Education: MFA: California Institute of the Arts. Other: Teaches lighting design at Tufts University; member of Patriots Program at MRT; Resident Lighting Designer, National Playwrights Conference, Eugene O'Neill Theatre Center 2007-2015. Mr. Lilienthal lives in Somerville with wife, Emily, daughter Eliza, and dog Babe. He plays drums in a rockabilly/jump blues band that plays throughout the Boston metro area. www.BrianJLilienthal.com.
David Remedios (Sound Designer)
MRT: Miss Bennet: Christmas at Pemberley; Murder for Two; The Villains' Supper Club; Knyum; The Royale; Women in Jeopardy! (Onstage Theatre Award); The Making of a Great Moment; Abigail/1702; Home of the Brave; I and You; Out of the City; Oceanside; The Best Brothers; Year Zero (original music and sound); Two Jews Walk into a War; The Blonde, the Brunette, and the Vengeful Redhead. Recent: Berta, Berta; A Late Morning (in America) with Ronald Reagan, Contemporary American Theater Festival; Old Money, Commonwealth Shakespeare Company; The Curious Incident of the Dog in the Night-Time and The Scottsboro Boys (IRNE Awards for Sound Design), SpeakEasy Stage Company. Regional: American Repertory Theatre; Huntington Theatre Company; Portland Stage; Trinity Rep; Geva Theatre Center; The Studio Theatre; 59E59; Theatre for a New Audience; La Jolla Playhouse; Berkeley Rep; CENTERSTAGE Baltimore; Cincinnati Playhouse. International: Prominent arts festivals in Bogotá, Paris, Hong Kong and Edinburgh. Awards: IRNE, Connecticut Critics Circle, Elliot Norton. David is Program Head of Sound Design at Boston University, a proud member of United Scenic Artists Local USA 829, and is a founding member of MRT's Artistic Patriot Program. www.remediossound.com.
Becca Freifeld (Production Stage Manager)
Becca Freifeld (Stage Manager) is thrilled to return to Merrimack Repertory Theatre after working as a stage & company management intern during MRT's 2010 -2011 season. Area stage management credits include Straight White Men, Two Jews Walk into a War, Man of La Mancha, Oleanna, Thurgood (original run & on tour), Fiddler on the Roof, and Good (New Repertory Theatre); Dancing at Lughnasa (Gloucester Stage Co.); Every Brilliant Thing (SpeakEasy Stage Company); Barbecue (Lyric Stage Company of Boston); Shoes On, Shoes Off (Brandeis Department of Theater Arts); Romeo & Juliet and Evil Dead: the Musical (Arts After Hours), among others. Up next, Ms. Freifeld returns to New Rep for the New England premiere of Cardboard Piano in the spring.
Photos
By Wendy MacLeod
Directed by Sean Daniels
Press wishing to download high-res photos can do so from our Flickr collection.