Details
Select seats (PINK ■ ZONE D seats only), strictly limited availability.
$10 off other regular priced seats with same promo code.
Not valid on Super Savers. No exchanges, no refunds. Thank you.
More details here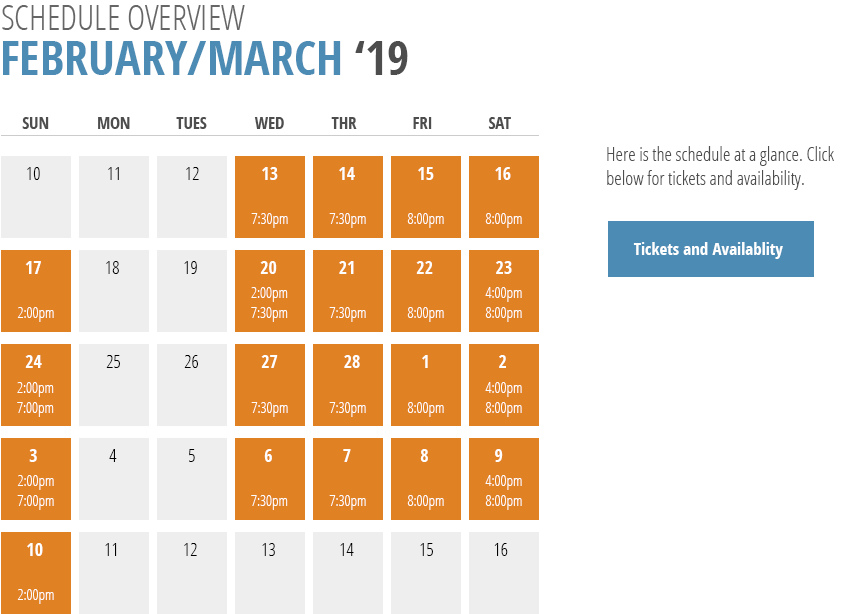 Events
$5 NIGHT: February 13, 7:30 pm (Tickets on sale at 4:30 pm)
WINE DOWN FRIDAY: February 15, post-show
MRTEA: February 17, 1:30 pm
COOKIE MATINEE: February 20, 1:30 pm
LOWELL NIGHT: February 21, 7:30 pm (Tickets on sale at 4:30 pm)
ASK THE ARTISTS POST-SHOW DISCUSSION: February 21 and 28
EDUCATOR & MILITARY DISCOUNT DAY: February 23, 4:00 pm
TALK BACK WITH HISTORIAN ROBERT FORRANT: February 24, post-show (after 2pm Matinee)
LADIES NIGHT: February 28, 6:00 pm (must RSVP)
OPEN CAPTIONING: March 3, 2:00 pm
Click here for more information about the events above.
Special Events
Thu, Feb 21 SPECIAL PANEL EVENT A Talk with D'Youville Life and Wellness: Coming to Terms with a Relative's Dementia
Immediately after the 7:30 p.m. show on Thursday, February 21.
Moderator: Naomi Prendergast, Executive Director, D'Youville Life and Wellness Community
Panelist Lisa Sobhian (LICSW, CDP), Director of Dementia Services and Life Enrichment Programs at D'Youville, will discuss the effects on the family when a relative has a form of dementia, such as Alzheimer's, from the point of view of a clinician, and Sharon Hatch will approach the topic from the angle of a family member. Sharon Hatch has been caring for her mom, with dementia, for the last several years. Her mother currently resides at D'Youville Life & Wellness community on their Dementia Special Care Unit and Sharon is passionate about helping other families navigate through this journey.
Sun, Feb 24
SPECIAL SPEAKER
Post-Show Discussion with Dr. Robert Forrant
Presented by Mass Humanities
Immediately after the 2 p.m. show
Sunday, February 24
The renowned historian will discuss the historical links between Lowell and The Heath. Dr. Forrant is the distinguished History Professor and Senior Research Fellow at UMass Lowell. He teaches courses on labor issues, immigration, and international development. He will soon release a book on the industrial history of the Connecticut River Valley and New England.
Sat, Mar 2
BRUNCH for The Heath at Warp & Weft
Downtown Lowell's trendiest restaurant will host a conversation with The Heath actors Miranda Barnett and George Judy during brunch. The actors will discuss the process of creating these illuminating, original characters.
Warp & Weft, 197 Market Street
11:30 to 1:30 p.m.
Saturday, March 2
Reservations required by phone (978-455-6537) or online at warplowell.com

Sat, Mar 23
Alzheimer's Foundation of America Benefit
The Michelle Canning Band
A Night on the Edge!
In partnership with Merrimack Repertory Theatre's production of The Heath
Tickets: Adults $15, Children $7
7 p.m. March 23
Chelmsford Elks Hall, 300 Littleton Road
Purchase NOW
For more information, visit www.michellecanning.net.
Michelle Canning's experiences with her grandfather mirror the experiences of Lauren Gunderson in her memoir play, The Heath. Michelle will perform this benefit for the eighth year in honor of her grandfather with funds going to the Alzheimer's Foundation of America. Originally from North Andover, MA, and a current resident in Nashville, Michelle is known as one of the most energetic performers of bluegrass and country music in the country. A first-rate banjo player and vocalist, Canning plays a variety of instruments, including guitar and bass. Recognized for her vibrant stage presence, Michelle Canning has toured several states and seven cities across the People's Republic of China. In 2009, Canning became the youngest person and only female ever to earn the title of New England Banjo Champion.