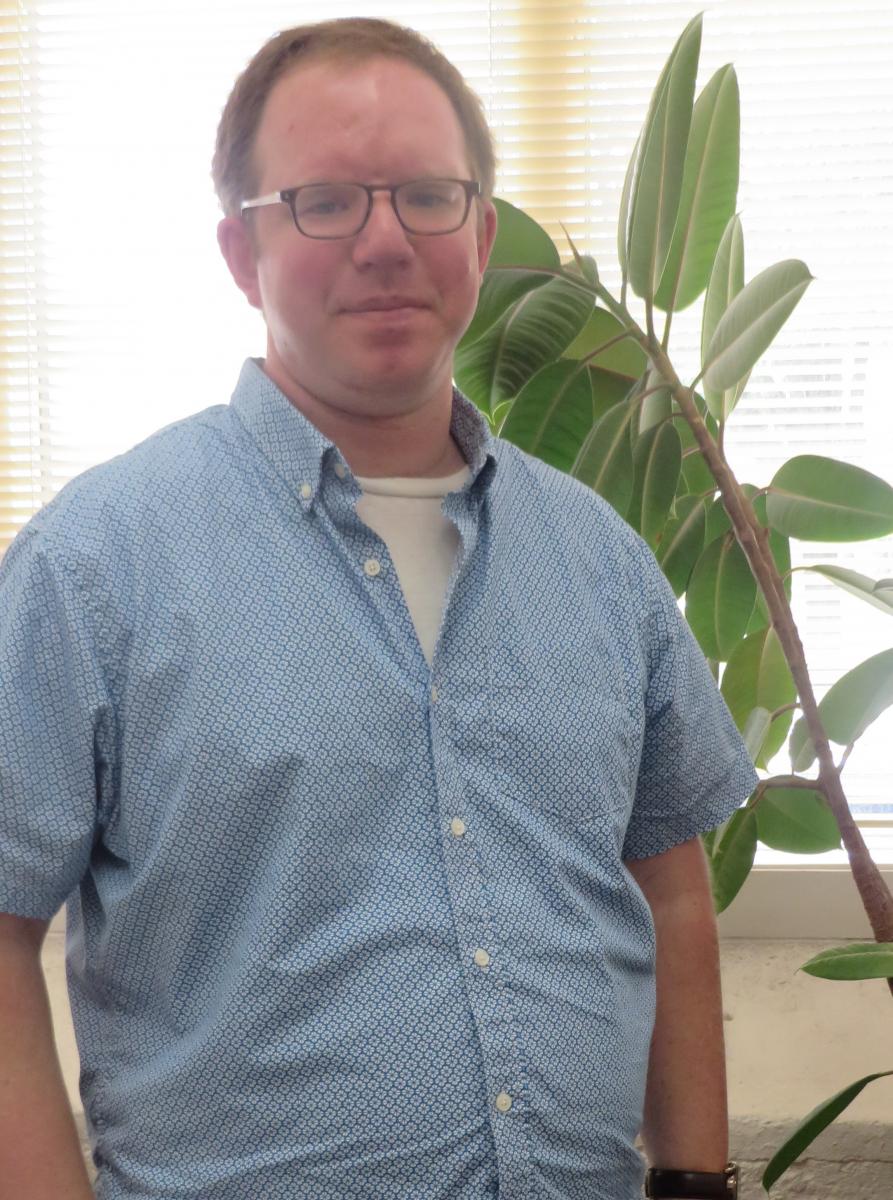 Behind MRT's offices are ten spacious studio apartments, fully furnished and stocked. Great views of the Concord River, too.
The apartments are for the company's visiting artists, and they're some of the best artist housing around. MRT is able to attract top-tier talent from across the country to Lowell, thanks in large part to the company's reputation for artistic excellence. But it's also thanks to the company's reputation for treating its artists right—and associate producer Peter Crewe has much to do with that.
Peter is the point of contact for all the actors that come through MRT. It's his job to make their experience in Lowell as comfortable and carefree as possible, so they can focus on rehearsal and performance. He oversees the company management department, working with a team of apprentices to ensure the apartments are maintained throughout the season and ready for each new cast as they arrive. The company management team begins working with MRT's guest artists weeks before they arrive in town. It's a lot to do; but that hospitality helps facilitate great theatre work. "People here are taken care of," he comments, "so they can put a good show on stage."
And Peter knows a few things about putting on a good show: he's a stage manager by training, and a member of Actors' Equity—the union of professional actors and stage managers. (In fact, he was MRT's stage management intern in 2004, and still works up in the booth for a handful of shows each season.) As associate producer (a recent promotion from company manager), he's even more closely involved with season planning than before. He helps with auditions, and he secures performance rights for all seven plays in the season. For already-published works, that's a relatively straightforward process; but with new plays, it can mean a long series of negotiations. When Sean Daniels stepped in as artistic director this year, the timeline (which usually begins in late Fall), had to undergo a significant time crunch; Sean wasn't even hired until mid-December. With three world premieres on the docket, that posed some real challenges. Peter pulled off the typically months-long process in just six weeks.
Peter joined the MRT team full-time in 2008. "The reason I wanted to come back to MRT was [outgoing artistic director] Charles Towers' focus on new and contemporary plays," he notes. "I wanted to be a part of that. I also appreciate our audience, and their intellect. They're a fun group to make theatre for." Peter cites Tryst and The Outgoing Tide among his favorite productions during his time here, but the overall level of acting talent that comes through keeps him excited to be here—and keeps us excited to have him.