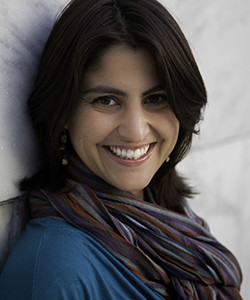 For anyone who knows director Megan Sandberg-Zakian's work, It's a Wonderful Life: A Live Radio Play might seem like a bit of a departure.
"One of the things I look for in a project is: 'Why is it important to do this play here and now?'" she notes. It's a philosophy she carries with her to all her work. And it often means working on shows that have a bit more of a current edge to them. Many of her projects have centered on hot-button contemporary issues—such as Sila, a new play about climate change, or No Room for Wishing, a one-man show documenting the stories of individuals at Occupy Boston.
Megan counts No Room for Wishing among her most memorable projects. "One person was embodying people from all across the huge spectrum of society, who basically had nothing in common except that they were totally desperate." The production toured not just to theatres, but to community centers and libraries. The people whose stories got told found it a remarkable source of closure, and it's that potency of narrative—the capacity of stories to unify us across boundaries, in the living, present moment—that drives her artistic mission.
Though her family never officially encouraged her to go to into theatre, it was all around her growing up. Her father was a playwright and director in his own right, and family lore recalls a 3-year-old Megan listening attentively to Dad's lectures on playwright Eugene Ionesco. It wasn't too long before she found that her infatuation with narrative arts, and especially works for the stage, could guide her career.
If her work seems to have an activist streak, it's probably because she has an activist streak: with a Jewish father and an Armenian mother, there seems to be a built-in drive in her to stand up to oppression wherever it shows up; from Occupy (where she met Danny Bryck, the writer/performer of No Room for Wishing) to the Black Lives Matter movement of today.
And though a chestnut like It's a Wonderful Life might seem an anomaly for Megan, she is quick to remind us that a story doesn't have to be ripped from the headlines, or about a specific social issue, to feel vivid and present. This story shows the inestimable value of community, of the people and places we rely on for the goodness in our lives. And that's something that will always matter "here and now."
Megan was recently awarded the Princess Grace Fellowship, which makes her our official Director in Residence. It means we're already holding a spot for her to direct next season (stay tuned!), but it also means she'll be working on a number of developmental projects before then—starting with a workshop of Eleanor Burgess' timely play Chill, about all that life throws us between ages 18 and 28. And we can't wait to see what's next.