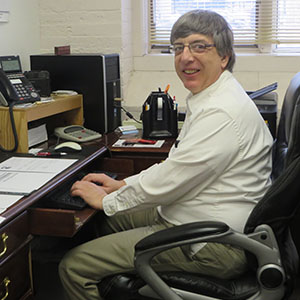 When I asked Ed, "is there anything you don't do?" he was quick to respond: "Props, costumes, lighting design."
But he does play the viola.
Edgar Cyrus instantly comes across as a really nice guy—which is good, because he's the company's longest-serving employee (he came to MRT in 1995). And even though you won't see him working onstage, backstage, or in the lobby, his work is essential to the success of the company.
As Director of Finance, Ed's work influences just about everything that goes on at MRT. Well-managed finances translate to well-executed theatre.
"We've come a long way," Ed notes. "There used to be a lot of scrambling day-to-day, to figure out where the next hundred dollars were going to come from." But the current reality is a different one. MRT has grown tremendously in 20 years, and better resources mean better flexibility for MRT's staff to do their jobs... well, better. Happy, productive staff can make theatre that soars.
Ed admits that he enjoys working in finance for an arts nonprofit like MRT because it allows him to "snoop around in everything." He does seem to be everywhere, and have a solution for every problem: yes, he's the guy who monitors budgets, grants, and payroll. But he's also the guy you call when your internet goes down, or you have a question about employee benefits, or the office needs a new copier, or you're trying to identify someone in a photograph from 15 years ago…
Or when you need a violist. He's a member of both the Portsmouth and Thayer Symphony Orchestras, and if you saw MRT's 2004 Boston Marriage, you heard his playing in the incidental music. He also picked up a cello to record the fog horn sound effect in 1997's Long Day's Journey Into Night.
Ed's 20 years with the company give him unique insight into MRT's long-term trajectory, both organizational and artistic. "It's very exciting. Each year is different. As much as you try to make a plan, it's an organization by and about people. So things change. That's just how it works."
He cites 1999's Twelve Angry Men and last season's God of Carnage among his favorite productions during his time here, but he's been impressed with the company's consistently high level of artistry. It dawned on him watching Karen MacDonald's performance in the second production of his tenure, 1995's Who's Afraid of Virginia Woolf: "The people here take their craft very seriously, and treat their work as serious literature… It was the time I realized this was a special theatre, and not just any theatre."