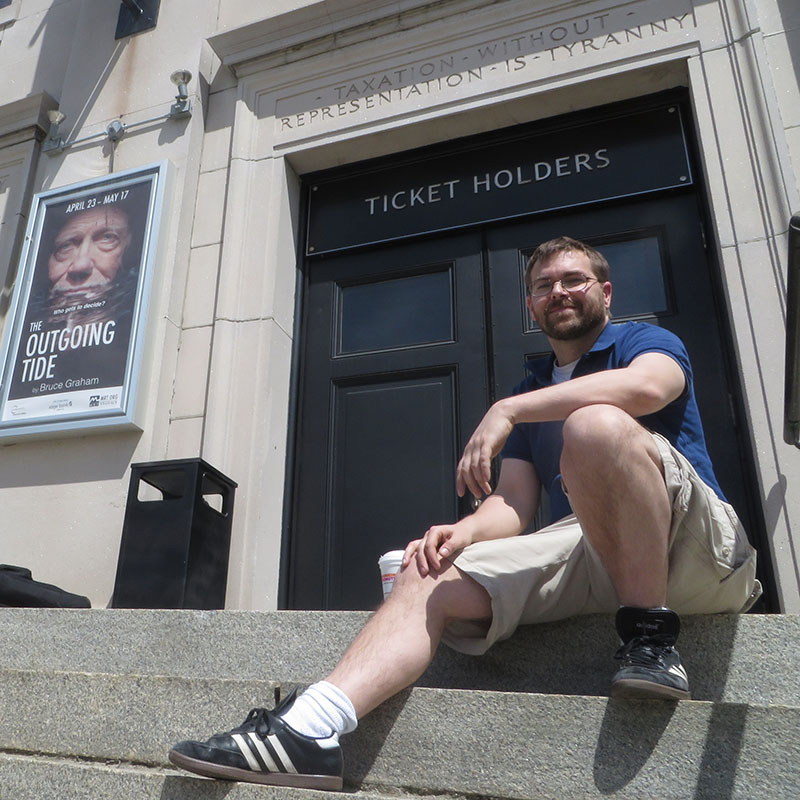 Six days—that's all there is from the moment one play closes, to the day the next production's cast moves onto the stage. Carter's job: ensure that when that next cast arrives, the lights come on, the sound is heard, and the designers' vision can spring to life during tech rehearsals. It might seem simple, but it requires a ton of technical knowledge, organizational skill, and work ethic. "Much of my job is preparing for that one week, and making that week as easy as possible," he reflects.
As soon as a show wraps up, Carter and his crew are climbing ladders, pulling down cables, hauling around stage lights and speakers, swapping out gels (colored sheets that filter the light), making sure all the pieces are in place so the next lighting and sound plots can evoke an entirely new location. He'll assemble a team for each production (usually 3-5 workers from around the region) and oversee the days-long process, often working along with them up on "the grid" (the network of planks, pipes, and electrical circuits that hover over the stage and seats).  Next time you're at a show, look up: the location of each bit of equipment is meticulously laid out by a designer. Carter follows their instructions, making sure not only that everything gets where it needs to be, but also that it's hung safely, wired correctly, and will work every time it needs to. Only after all the equipment is set can he ensure that the cues get properly programmed.
Every show is a new experience, and each comes with challenges as unique as the plays themselves. The Outgoing Tide, for example, requires sounds to come from all sides of the theatre: geese flying south, motorboats circling the bay… Ben Emerson's sound design called for the addition of six speakers to the sound system around the theatre's periphery, each channeled individually; unconventional for an MRT production. Carter mounted the speakers and ran yard after yard of sound cable to make it happen.
Carter has been orbiting in the MRT "solar system" since he first interned here eight years ago. Since then, he's been here on-and-off, show-by-show, while holding positions other nearby theatres, even working a stint at BeNT Productions, the scene shop MRT contracts with. He returned to us full-time last August. And while most of Carter's work is in following blueprints, he finds plenty of time to do the creative stuff too: his designs have been seen and heard at a number of theatres around Lowell and Boston, including MRT. If you saw Dusk Rings a Bell at MRT, you've heard his sound design—and when you see It's a Wonderful Life: A Live Radio Play next December, you'll see his MRT debut as a lighting designer.
His love of theatre is strikingly obvious—if not from his work alone, then from what he says about it. "I appreciate the caliber of people you interact with," he reflects. "I think the arts are important—and the work is fun. You put on a play. You get to explore fresh perspectives, and see the world through the eyes of others—which a lot of other jobs don't offer the opportunity to do. You create these worlds, on stage."
In the last season, those worlds have stretched from Long Beach to Long Island to Toronto, evoking the full range of human emotion, from hope to anguish and back again. Seven worlds at MRT, in one season alone. Thanks to Carter, every one of them can be seen and heard.