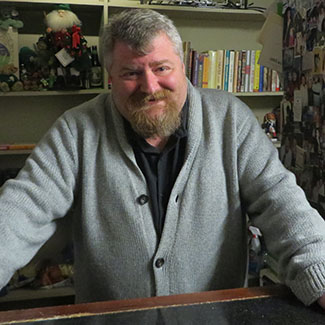 It was 13 years ago when John knew it was time to get out of retail. He'd been working for Macy's, and for Foot Locker—but he realized his young daughter thought the mall he worked at was actually his house, he gave his two-week notice. Before those two weeks were up, he was working for Merrimack Repertory Theatre. He's now the company's House Manager.
Everything that happens in front of the stage is John's domain, from getting people into their seats, to stocking the bar, to keeping up on basic maintenance of the "house." His job, in short, is to keep the audience happy.
It's rewarding, but not without challenges. During any given performance, John might have to seat patrons who arrive late, patrol the house for alarms, or even fix an exploded water pipe. It doesn't hurt to have a good crew on hand: John also manages MRT's many devoted volunteer ushers—he tries to keep an active roster of about 120—and keeps things running smoothly in unpredictable situations. "You kind of make it work," he says. "There've been nights when I had 16 ushers. Another night, during a snowstorm, I had three."
John is among the company's longest-serving staff. He's missed just three performances in his 13 years with MRT; he and his family are fixtures here. "My kids basically grew up at this theatre," he says of his daughters Kate and Maggie, who have been helping out since their pre-teen years (John would hide dollar bills around the house after shows to put some pep in their step during cleanup).
Now in high school, they'll often pet-sit or babysit for the actors. His wife MaryAnn has been known to step in behind the bar at shows, and John himself, an avid cook, caters a meal for the cast and production team of every production. He's a regular sight around town: people all over Lowell seem to know John Dyson, from local restaurant owners to the Spinners. You'll even find him as an extra in movies shot in Lowell (The Fighter, Here Comes the Boom, and The Invention of Lying).
And wherever you find him at the theatre, he'll surely be offering his smile and dedication to keeping the MRT experience a great one.