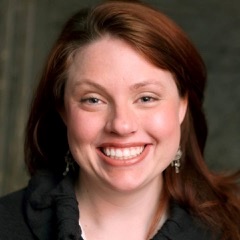 It's kind of hard to say what a producer does, because a producer just has to do so many things.
So thank goodness for Emily Ruddock.
Having joined the MRT team last fall, Emily manages half of the season's productions, start to finish—from building a crackerjack team to dismantling the last set piece—and she does it with flair to boot.
But with MRT's focus on new work, a play's life can be much more than what happens inside the walls of the Nancy L. Donahue theatre.
"The evolution of a new play is so much longer than first rehearsal to opening night. That's something I'm really passionate about," Emily remarks.
New plays don't typically hatch fully formed on the page. The Realness, for example, came to MRT off of a series of workshops nationwide. The creative team had already put in the hours, days, and weeks of figuring out how to make the play sing (or rap, as the case may be). But a lot changes when a play becomes a full-on production, so it's Emily's job—even months before rehearsals start—to get everyone talking. Each person has their own  work to do, each with its creative and technical hurdles; Emily keeps the final product in mind, keeps everyone moving toward the same big picture.
It's a lot. Fortunately, she comes to us brilliantly prepared, with a Master's in public administration from the Maxwell School of Public Affairs, where she learned essential skills in talking about the arts in the bigger context of the larger cultural ecosystem. She's also got a Bachelor's from Mount Holyoke in critical social thought ("It meant a lot of time reading Foucault, Marx, Derrida, and weird magazines"), a theatre minor, and close to a decade under her belt at Actors Theatre of Louisville.
Though she started in Louisville as an acting apprentice (and will, if asked, gleefully recount performance stories of running around the stage screaming like a crazy person and squirting fake blood), she quickly found a call in forging and fostering connections in the arts world, from growing an alumni network to mounting cross-discipline arts shows to throwing epic rooftop parties. She also learned a ton about casting, directing, how to work with artists, and how to break down a big vision into littler goals.
And Emily is, among many things, a champ breaker-downer, the consummate expert at figuring out all the small, achievable things that have to happen so that one big thing can happen—the big thing you see onstage. (Like, say, collecting a hundred 90s-era speakers.) And as head of MRT's Patriot Program, our network of over 60 nationally and internationally renowned artists crafting new work, she's sure to leave a big bold stamp, not just on MRT, but on theatre across America as well.
---
Favorite Pastime: Being a die-hard Red Sox fan with her husband (lighting designer Brian J. Lilienthal) and her yellow lab mix Babe
Deep Dark Secret: Smuggles sub sandwiches into the movies
Likes to Binge Watch: Mozart in the Jungle, Game of Thrones